Why Custom eCommerce Websites Design is must for your Online Store?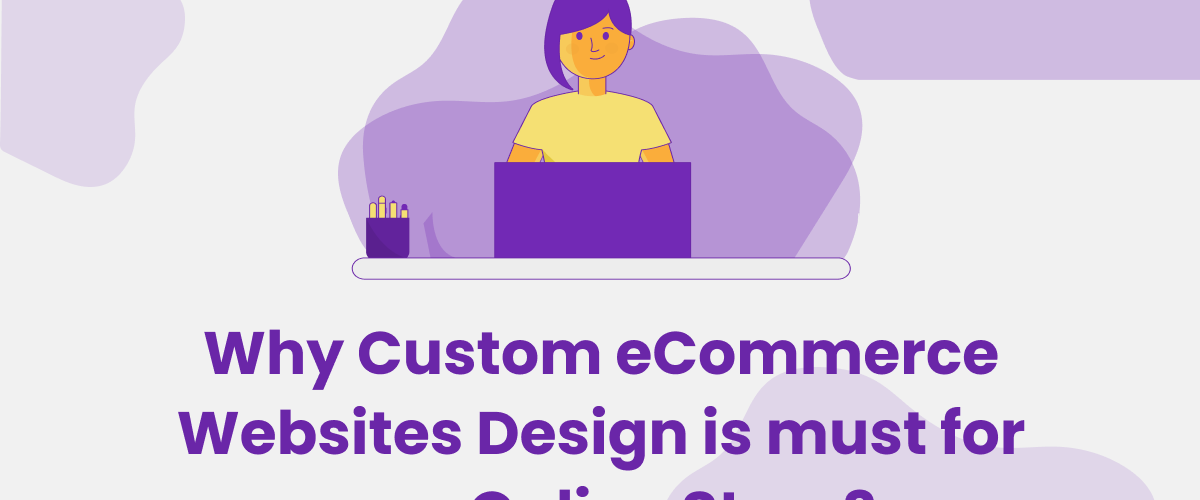 Deciding to start an internet business is a difficult one. So, how would you set yourself different from your peers? Why would a client want to buy something from you? However, you would not be the first to provide online items; several others are to establish themselves or have already done so.
It's all about virtual branding in eCommerce. Only the words "look" and "design" are used to describe your items. Many business owners, however, are unsure how Custom Design differs from Templates.
Why Custom Ecommerce design – 
A simple reality is that a Template has been used by millions of webmasters all over the world, but a Custom eCommerce website design is not visual and is designed to include your company's structure.
There are thousands of template platforms accessible, so why allow your business to fall behind the competition? Maintain your website's position among the major players.
Your ability to simply amaze your customers is dependent on the design of your website. So, you've created a template, customized it with your preferred colors, added the content, and you're done. But what's next? Do you believe the game is finished? The challenge has not even begun.
The customer is looking for something new, relevant, distinctive, and easy to use. You may not be aware, but numerous websites have utilized the same design with little or no change.
Your website's survival was reliant on several other variables, like search engine optimization, branding, and so on.
This blog will explain why you should personalize the look of your eCommerce website.
After all, it's all about the design!!!
There are a plethora of websites to choose from. You will only get one opportunity to promote your company. Unfortunately, if clients do not find what they are searching for, they will quickly go.
Why not make a good first impression on your visitors by sprucing up your website? To convert visitors into consumers, keep the initial impression pleasant.
Consider how you would have designed your company's logo. It isn't a straight duplicate of another brand or a little tweak. It's all about your vision and sense of self. The same is true for the website. Your website is what represents your company. Make it distinct, one-of-a-kind, and fashionable.
Don't bother doing it a second time; visitors will not return. Hire a web designer for your eCommerce website to make it stand out from the crowd. They'll take your concept and put it into action on your website.
Making Your Website SEO Friendly
Providing a distinctive product in a well-designed website is insufficient unless your website is accessible to your clients. Search Engine Optimization is all about increasing your internet presence.
Thousands of templates aren't enough to meet SEO requirements. Templates are not created to meet specific company objectives; instead, you must shape them to match your needs. Even if you succeed, your website will fail to satisfy the goals of your visitors.
If a client finds it difficult to discover a suitable product or the website takes too long to load, believe it or not, they will not return. Customers will often stay only 2-3 seconds on your website before moving on to another website if they are not treated well; after all, they have a lot of alternatives.
Your consumers should have access to a clean, easy-to-navigate website. If you gain your customer's trust early on, they will almost certainly return to you.
Only a bespoke website created by a competent designer achieves SEO goals and ranks well in search engines. Because a designer follows SEO standards and uses powerful keywords and Meta tags to make a website stand out and be beneficial to visitors.
Hiring an expert web designer will, of course, be costly, but it will make your website SEO-friendly. After all, a bad template structure may harm your company's reputation and end up costing you a lot of money in the long run. Instead, start with a professional web design approach.
Finally Thoughts 
A custom eCommerce website design is created to offer your website the perfect appearance that makes it look distinctive, appealing, and useful. A good design not only attracts consumers but also converts them into customers and increases sales.
Unlike templates, which are inexpensive but quickly become outdated, a personalized website design can help you establish your brand image online and represent the quality of the items you're selling, earning client trust.
Make sure your website looks precisely how you want it to. After all, the initial impression is crucial. Make the impression you want to make by reflecting your brand identity.