Best Web Development Company in Mohali – IWEBCODE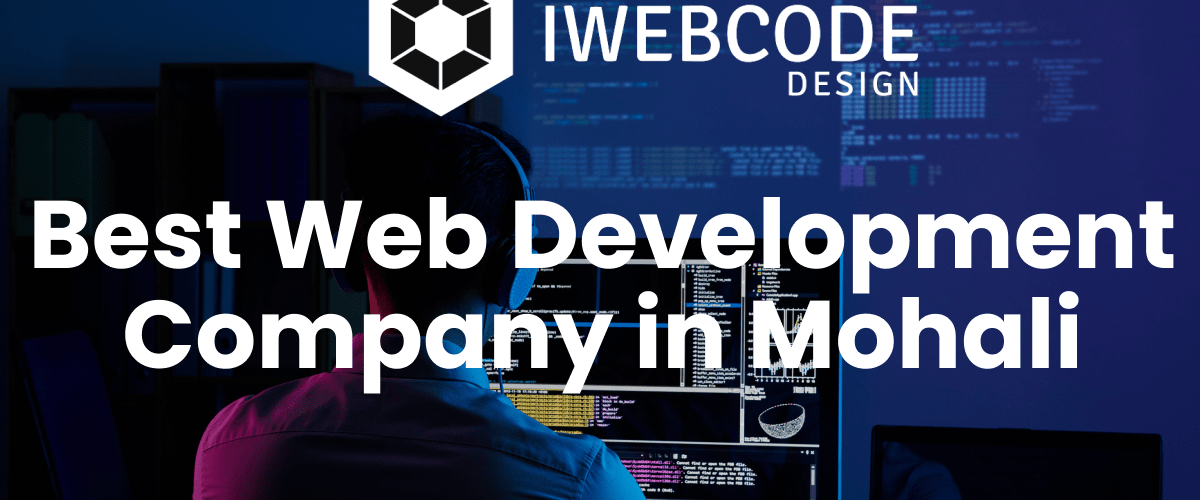 If you want your own website, you've probably considered which firm to go with. There are many web development businesses around the world, but not all of them provide quality service. To achieve top-notch performance and leave its customers delighted, a top-ranking web development business must mix inventive web design with modern technology, provide excellent support, produce a sturdy website project, one can be open to learning new ways.
Websites exist in a range of layouts and sizes, as evidenced by the millions of business websites on the internet. A web development company can create a website that is tailored to a company's specific needs and preferences. Unlike websites constructed in the previous decade, today's websites are built with the mobile user in mind.
This entails creating a website for smaller (handheld) devices and then converting it for use on a laptop or desktop computer. A web development company's strategy to creating your company's website will be determined by a number of factors.
 Characteristics that a fantastic web development business should have:-
A portfolio that stands out
A strong portfolio demonstrates a company's expertise, talents, and qualifications. It's also a good approach to learn about the company's offerings.
Outstanding Developmental Skills
Consider a firm that has a staff of highly skilled developers when looking for a web development company. Not everyone should be a jack-of-all-trades, but everyone should be a remarkable expert. You can also call a company and inquire about the team's capabilities, the types of projects they've previously worked on, and the skills they have and excel at. You should always have a highly skilled team working on the project, devoting all of their focus to meeting all quality requirements, and providing personnel with cutting-edge technology training. Developers should have substantial experience working on a variety of high-quality products and a track record of successful projects.
Every project comes with a deadline. A date or a time frame in which it must be completed. The fundamental features of effective project management are strategies, tactics, and tools for regulating delivery processes. Once the product is delivered and in use, the development business must be able to construct a time frame that meets the client's demands and expectations. To achieve goals and meet project success criteria, project managers must successfully initiate, plan, execute, and control the development process.
Every successful business has satisfied customers who are willing to express their thoughts about the company's operations and cooperation. On the website, you can read comments and testimonials, or you can ask for a list of real clientele who can provide testimonials. One can make your decision based on client recommendations and experience.
Clients should be able to communicate with web development firms today. Managers must always be aware of all project requirements and take client expectations into account in order to tailor the project to the customer's demands. As a customer, they should be able to track the process throughout the web development lifecycle and even engage actively in resolving difficulties, providing comments, and making changes.
If, for example, you change your mind in the middle of the web creation process, a web development company must be flexible. The web design and development team should be able to work with the customer's needs.
All of the attributes listed above must be present in a great web development firm.
These can help us in finding the best web development company in 2021 which you will need as a business owner.
Why should you choose IWEBCODE?
To build your business and make sure that you get the desired growth you need someone who can help you with it. With the way Website, Web Development Company in Mohali is taking over most enterprises, it's safe to assume that companies like Iwebcode development services will never go away; at least, not in the near future. There should always be a compelling motive to redevelop. It's challenging to balance elegant attractiveness with practicality.
Make a list of your goals and discuss them with your team, creative, and workplace. The above metrics should be monitored, and present SEO rankings should be enhanced as well. You might be able to increase your conversion rate by using SEO strategies and other sales pitches, but having an original exclusive product gives your store recognition and popularity.
It is a professional Web Development Company in Mohali that provides businesses with complete content, appearance, and functionality control. IWEBCODE is all about a high-quality company that provides consumers with security and ease. A development company can also assist you in migrating your existing content management system in a timely and cost-effective manner.