How to Increase the Speed of Your WordPress Website?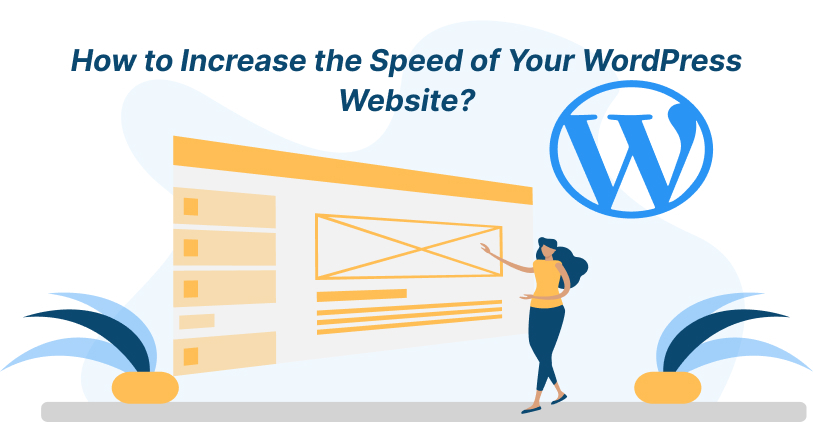 Do you want your website to be searched on a high level? What do you think, what to do about this? Let's jump into this amazing topic and explore the important steps to understand that how to increase the speed of your WordPress website. On the other hand, a WordPress Website will guide you in the right direction.
First, we need to start from the very beginning, the Google page speed.
What is Google's Page Speed?
It is a famous set of tools that provide the best graph of the speed of a website. It also shows a speed meter of up to 100 for both devices (Mobiles and Desktop). Every website user wished to hit at least 90% speed or even above. If a website's speed shows a low speed of less than 50 then it really needs urgent maintenance. Here we will discuss the best recommendation to increase the speed of your WordPress website. Google page speed insights are the option from where you can monitor your website's speed by writing the URL and improving it by applying the below instructions.
Why do we need to increase the Speed of a Website?
When people join the WordPress website they only knew that it will work itself. They did not know about the actual process of how to command over the website. But few steps need to consider like browser location and caching are the two main factors through which a website's speed is monitored. By following these factors including more like them are your website will be run fast and smoothly. Furthermore, when your site has a good speed it naturally pays you back as it starts collecting huge traffic on a daily note. Because if your site's speed will perform excellently then visitors will spend more time on it and even purchase the products or anything in no time. So, it is important to pay attention to your website's speed.  Furthermore, a WordPress Website development company in Mohali can help to grow traffic on your websites.
Top 7 steps of Improving WordPress Page Speed
Compress your images
Make caching Enable
Take Mobile First
Allow GZIP compression
Minimize JS files, HTML, & CSS
Upgrade Plugins
Delete unnecessary Data
Through page speed factor, your website can be high on Search engines. Now let's elaborate on these points:-
1. Compress Your Images
By compressing the images of your website would be the reason for its smooth loading. Otherwise, with big images, it takes time to load which results in a low bounce rate. A WordPress website is a worldwide famous website. There is a need to make it perfect by following the important steps from which it is one. It is important to edit the image before uploading it to a website. Just pay attention that for what purpose and where you need this image and then mold it according to the need. That process will let your website rank high on the Search engine along with the high speed. Moreover, a WordPress Website development company in Mohali can help to grow traffic on your websites. Or you can install an image optimization plugin that helps to know the real needed size of an image for a website.
2. Make Caching Enable
When you enable your caching then google will store your website data on a temporary basis which means the browser can load your stored data easily. Then there is no need of reloading it. The best work of this option in WordPress is by using this the speed of your page become much faster when the user visits the website 1st and the 2nd time. If we talk about that how to use this in WordPress then a plugin is there named as W3 total cache. It is totally free to use. In addition, a WordPress Website development company in Mohali can help to grow traffic on your websites.
3. Pick Mobile First
In the matter of ranking, Google chooses the mobile version websites. It is better to use mobile-first while optimizing and designing the website. WordPress theme is provided fast mobile loading that lets the server display all the images, videos in a very clear way. A plugin named WebP express changes your website pictures into the fastest web pages that exceed 80% of site speed. But there is also a need to add image compression software. Another amazing plugin of WordPress is AMP which helps the site to work faster than ever. Furthermore, a WordPress Website development company in Mohali would be the best helping station for a user.
4. Allow GZIP Compression
In GZIP compression, All your site data is saved in a lightweight style in-between server and user browser This is a kind of way in which browsers can able to load your sites easily. A plugin is recommended that has a GZIP compression which helps to minimize the site files.
5. Minimize JS files, HTML, & CSS
CSS, HTML, and JS documents are utilized to add remarks to your site code, for instance, to explain designing or style. Minification sounds convoluted however it essentially implies decreasing the size of these documents and erasing pointless code.
Doing this is colossally valuable as it will empower your site to stack all the more quickly while holding the key data required all together for your site to show accurately. You can minify your JS, HTML, and CSS records on WordPress rapidly and effectively with the free WP-Optimize module Or WordPress Website development company in Mohali can help you in either way.
6. Upgrade Plugins
Modules might be diminishing your site speed differently. Inadequately planned modules, modules with obsolete programming, or excess/copy modules would all be able to add to slow site stacking. For great results use WordPress themes.
It merits recollecting that it's not the number of modules that for the most part causes a speed issue. (That is, except if you have heaps of modules that do exactly the same thing or are not utilized – in which case the excess ones ought to be erased.) as a rule, it's the quality and helpfulness of modules that influence page speed.
More Insights
It's a smart thought to run a Google PageSpeed test both prior and then afterward introducing any module. This will show the effect of the module on your site's speed, so you can settle on an educated choice with regards to whether the module's usefulness merits any site easing back.
You can likewise check how your webpage speed is influenced by your current modules by deactivating everyone thusly in the 'Modules' segment of your WordPress site back-end, and afterward running a PageSpeed test. A WordPress Website development company in Mohali can guide you about each core of the website.
You ought to likewise try to refresh modules as and when new programming opens up. Updates are constantly featured on your WordPress dashboard – essentially check consistently and click on any update messages to activity them.
7. Delete Unnecessary Data
The more you utilize your WordPress site, the more your information base becomes stopped up with old and pointless scrapes that stoppage your exhibition. Cleaning your information base along these lines speeds everything up by eliminating the things that aren't required. You can keep your WordPress site data set clean by introducing a module like WP-Sweep or Advanced Database Cleaner. These will work naturally behind the scenes to stay up with the latest and expand page speed. WordPress Website development company in Mohali
Hence, Your website is everything about your business, so it is essential to keep it at the right speed. For that, all you need to do is follow the above steps thoroughly.
For more details visit IWEBCODE.