Ways To Improve Your Website- Website Development Company in Mohali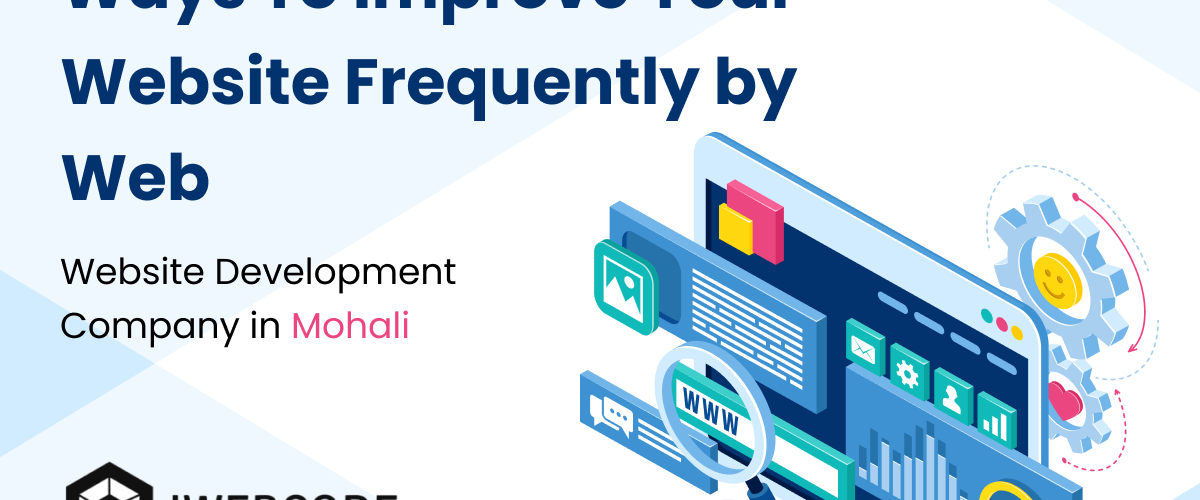 In this 21st century, Websites are the new shops and working areas. They delivered everything through a website. Here we will discuss the Ways to Improve Your Website. Website Development Company in Mohali It can be anything from a project to a little product. Everything is only managed by a website. Websites are the only place where they sell and buy things which is even now become a trend. Due to the Covid-19. Most of the business has now shifted online.
Now the thing is "WEBSITES" are the new boss of business and here we will discuss the about the how-to Improve the Websites from all sides so that everyone's business will go smoothly and successfully.
By following plenty of ways a simple website can be developed in a productive way:-
   1. Update the Content: 
People are always looking for something new and want a variety of it. Either they left the website in a few minutes. So, make a habit to update your existing website with new products and matters. Moreover, There are many ways to improve your Website After 6 months, ask your website designer to design something new for the website that will definitely bring good traffic to your website.
2. Important Actions to Take:
There are many core points to take care insight to improve your website.
Email connection: When people visit your website and decide to sign up for your mail, at that moment they join a journey with you like a connection. Through an email software designer, place a "Sign up" button in front of the page so that it increases your visitor's cum new members.
Best use of images: When you are running an E-Commerce website and sell many kinds of products then just add few pics of most selling or new products images on your Home page along with a " shop now " button which makes the people click on it at an easy level which naturally raises your website clicks and traffic.
Service provider Portal:  If you are providing services instead of selling products then it would be good enough to ask your visitors that in what matter they need our services. In this way, You can create a Service portal where people will visit your website easily which benefits you.
3. Contact Information:
Have you ever paid attention that how your visitors visit you or contact you? This is the vital part of a website to take care of. Add the contact information in the header and footer page which could be easy for visitors to contact. Moreover, it would be good enough if you add a phone number too on your website. Because sometimes, Visitors wants to buy on a big note and mostly prefer to call instead of using a mail.
4. Add Images Instead of Text:
Many web pages are filled with text-only. Just short the text and collab the pictures with them. It is said that pictures can attract more rather than lots of text information. Moreover, the Quality of Images should be of high quality.
5. High Definition Video:
Along with the pictures Create a video that represents your website and its work to the audience. Post that video not only on your own website but also on other social media platforms and paste your weblink with it. That link will let the viewers drag to your website
6. Update Your Design to Current Standards
A site planned in 2005 will look dated contrasted and one planned in 2015. An obsolete website architecture gives the impression your business isn't state-of-the-art, all things considered. It's ideal to refresh the entire site. Be that as it may, if time and cash are hard to come by, essentially update the landing page to make an extraordinary initial feeling. Update different pages later as time and cash licenses. as there are many other ways to improve your Website.
Contact your Web engineer and request a landing page facelift. Or on the other hand, in case you are a do-it-yourselfer, buy a minimal expense format – you can purchase an expertly planned layout for under $100 from places like ThemeForest or TemplateMonster.
On the off chance that your landing page stacks gradually, guests may never go past it. Furthermore, extremely lethargic pages can even adversely influence rankings in web crawlers. Take the speed test here. The most awesome thing: you'll get ideas for how to work on the speed.
8. Make it Mobile Responsive
Last yet surely not least, the present sites should be distinguishable on cell phones. This is particularly valid for neighborhood organizations where clients might be looking on a cell phone from their vehicle for a business close by. A site that isn't set up for cell phones can be contrarily minimized in internet searcher results. On the off chance that you give your site a facelift, ensure the new plan is "responsive," which means it is adequately responsive to conform to cell phones. The equivalent goes on the off chance that you buy a layout.
Hence, By following all the above points a website owner can run its business in a very productive and smooth way. It will not only enhance earnings but Traffic on their website too.
For more details visit the website IWEBCODE